CX Daily: China's Markets Are on Fire
U.S. President Donald Trump speaks during a trade meeting with Chinese Vice Premier Liu He during the latest round of negotiations in Washington. Photo: VCG
U.S. delays March 1 date for higher China tariffs
The U.S. will delay raising punitive tariffs on $200 billion of Chinese imports, a move originally set to take effect March 1, after the two sides made "substantial progress" on issues including IP protection, technology transfer, agricultural, services and currency, President Donald Trump said Sunday on Twitter.
China's stock markets rallied on the news, with the benchmark Shanghai Composite Index closing up 5.6% Monday, the biggest jump since July 2015 and taking the index to its highest level since June 2018. The yuan also gained, with the Chinese currency rising as much as 0.6% to 6.6718 per U.S. dollar, its strongest level since July, before easing back to 6.6873.
Assuming discussions make additional progress, Trump said, the U.S. will plan a summit with Chinese President Xi Jinping at Trump's Mar-a-Lago resort in Florida to conclude an agreement. Trump did not give a date for the meeting.
FINANCE & ECONOMICS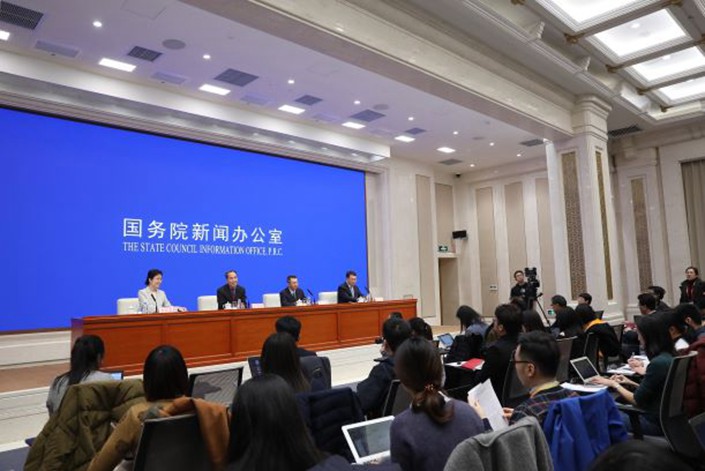 Photo: VCG
Debt /
China has achieved goals of deleveraging campaign, financial watchdog says
China has achieved the goals for its long-running national structural deleveraging campaign to reduce economic risks, the country's top banking and insurance regulator said Monday.
China's macro-leverage ratio, or the ratio of total debt to GDP, has stabilized since last year, reversing the trend of previous years when the ratio rose by an average of more than 10 percentage points, the China Banking and Insurance Regulatory Commission said. Analysts see this as signaling a renewed focus on growth.
Charging ahead /
Mainland stocks are running with the bulls
The Chinese mainland's benchmark stock index entered bull-market territory Monday, with the Shanghai Composite Index leaping 5.6%, posting an eight-month high and its biggest single-day gain since June 2015. At Monday's close, the index was 21.3% above its January low, meeting the bar for a bull market.
The smaller Shenzhen Component Index also began a bull run after closing 5.59% higher Monday. The combined trading volume of the two markets, which can serve as a barometer for investor sentiment, exceeded 1 trillion yuan ($148.99 billion) Monday. Volume hadn't been that high since November 2015.
Defaults /
China logs first dollar-bond default by major state firm in two decades
State-owned Qinghai Provincial Investment Group Co. Ltd. missed an interest payment Friday on $300 million of offshore U.S. dollar-denominated bonds, the first such default in more than 20 years. The enterprise in the interior Qinghai province also failed to repay a domestic note due Monday.
The group's failures to pay on time join a parade of defaults by Chinese companies amid a broader cooling of the economy. In the past, government entities frequently bailed out such enterprises to avert defaults, but the current wave of missed payments suggests that investors are now expected to shoulder more responsibility.
Cleaning up /
China imposes stricter anti-money laundering rules
The China Banking and Insurance Regulatory Commission, China's top banking regulator, is stepping up an anti-money laundering campaign by imposing new restrictions on financial institutions' market entry, internal controls and management structures in its first policy document this year.
Banks are required to track capital sources and verify the background of shareholders and executives, as well as designate specific individuals to lead anti-money laundering and anti-terrorist financing efforts. The move comes as the Financial Action Task Force, which sets global standards on fighting financial crimes, urged China to step up intelligence collection.
In-depth /
Payment companies' free lunch comes to an end
Third-party payment providers such as Ant Financial's Alipay and Tencent's Tenpay have, as of Jan. 14, moved all of their client funds from separate commercial banks to accounts at the central bank, with centralized management and oversight. Authorities had feared misappropriation.
At stake was more than 1 trillion yuan ($149 billion) of customer funds that were temporarily held by payment providers before transactions cleared. The completion was backed by the launch of China's first clearinghouse dedicated to online transactions last year, which cut the direct link between third-party payment providers and banks, severing the billions of yuan payment providers used to collect in interest. Already, costs are shifting to consumers.
Check out our deep-dive.
Quick hits /
• Former bank head fined $2.7 million for insider trading
• China gets passing grade from international review of its anti-money laundering efforts — with caveats
• Wang Tao: What would a China-U.S. trade deal look like?
• Citic Securities sees sharp drop in property market this year
• Shanghai, Beijing disposable income hits double that of rest of country
BUSINESS & TECH
Photo: VCG
5G infrastructure /
Huawei is building Saudi Arabia's 5G
Huawei Technologies Co. Ltd. said Saudi Arabia embraces its 5G infrastructure technology, and will begin deploying it over the next year, becoming one of the first countries to roll out the technology along with China and a handful of other countries.
The news coincided with a state visit from Saudi Arabia's Crown Prince Mohammed bin Salman last week, during which Saudi Arabian Oil Co., the kingdom's main energy producer, also announced plans for a $10 billion refining joint venture in Northeast China's Liaoning province. MOUs were signed for $3 billion of projects involving smart cities, renewable energy and infrastructure technology, among others.
Clearing the air /
Huawei ban would not delay European 5G roll-out: Nokia
Nokia Oyj CEO Rajeev Suri told European clients that a potential ban on Huawei would not affect the region's 5G roll-out, SCMP reports, adding that "the facts just do not support the claims."
According to the report, Suri sought to rebuke wireless industry groups, which have claimed that restricting network access to a single equipment maker would handicap Europe's progress in developing AI, IoT and big data.
Next-gen devices /
Chinese handset-makers lean hard on 5G at Mobile World Conference
Regardless of whether consumers can currently make use of 5G's supposed break-neck speeds or care to buy another phone, next-gen compatibility was a major marketing focus for several Chinese tech companies as they rolled out their product offerings ahead of the annual Mobile World Conference in Barcelona this week.
Huawei's Mate X, one such device, is expected to enter the market in the middle of this year. Xiaomi's Mi Mix 3, meanwhile, comes with a built-in 5G modem. Deliveries are expected to start by May.
Plot twist /
Judge who exposed missing Supreme Court documents confesses to taking them
A Chinese judge confessed Friday to taking the key legal documents from a case involving a high-profile mining rights dispute between a private and a state company in Shaanxi province, in a surprise development to a widely-watched scandal involving the country's top court.
Wang Linqing, a judge at China's Supreme Court, said he stole the documents out of personal discontent with the court, according to his confession on state TV. His admission was all the more shocking because Wang was the original whistleblower who exposed the case of the missing documents.
Personal story /
Farmers could prove lifeline for Chinese auto sales
For our reporter Mo Yelin, traveling home to Guangdong from Beijing has always been an ordeal. But this Lunar New Year the trip was more relaxing; the last leg of the journey was in his father's car — one Mo's father has been bragging about since he bought it last year.
Last year's slump in the Chinese auto market, its worst yearly performance in 28 years, was chiefly caused by slower growth in smaller cities and towns as disposable incomes dropped. But in Mo's village, all anyone wanted to talk about was cars. With rural wallets fattening at a pace that far outstrips those of urban peers, it's perhaps places like this where China's automakers should set their sights. Check out Mo's story.
Quick hits /
• State media blasts fake 'likes' on Weibo
• Chinese stuffed bun wins Oscar
• Producer of China's second-biggest-ever movie says don't believe the hype
• Huawei or the Highway? A visual timeline of international pushback against Huawei
• China steps up investment in AI chips with funding for Hangzhou Nationalchip (SCMP)
You've accessed an article available only to subscribers
VIEW OPTIONS
Share this article
Open WeChat and scan the QR code